Enjoy sailing on a traditional Dutch sailing cargo ship
Experience a great sailing trip on a former sailing cargo ship. Enjoy the enormous quiteness once the skipper turns off the engine and wind in the sails takes over the propulsion.

A bit of history
Holland contains a fascinating landscape of ditches, waterways, canals, lakes and rivers. Throughout the history these waterways have been in use by transportation ships in a large variety of shapes and sizes. Untill the fourties and fifties of the 20th century, these typical Dutch sailing cargo ships with their side-keels were in use. Nowadays, many of these previous cargo ships no longer sail: they were distroyed back in the sixties or transformed into house boats and moored in the Amsterdam canals.

From house boat to luxury sailing ship
One of them was the Nooit Volmaakt (1910), Dutch for "Never accomplished" or "Never Perfect". From 1953 until 1975 she was in use as a houseboat in the Prinsengracht, close to the Anne Frank house. A devestating fire aboard the ship meant the beginning of a new chapter. The ship's wreck was bought by Leo Ligtenberg (1930 - 2002) who transformed the Nooit Volmaakt into a luxury sailing ship. Nowadays, Leo´s son Rob - the present skipper and owner with more than 50 years of sailing experience - organises sailing trips.

The skipper explains
"Sailing historical flat-bottomed ships is my passion. It never bores me. Previously, I sailed another 18 meter Dutch cargo ship. In the early days there was no engine in it. Nevertheless, we sailed every weekend, entered ports, passed through locks and sailed many regattas. Very special, now that I look back on it. It was a period in which I really learned how to sail these enormous ships. It explains why I start the engine as little as possible during the day and evening trips I nowadays organise. It is my passion to show my passengers that by working well together, large sailing ships like the Nooit Volmaakt can sail fine on the small lakes and narrow canals".

Start your trip from a historical fortress
The Nooit Volmaakt is located at fortress Kudelstaart, a beautiful place at the borders of the Westeinder Lake. Fortress Kudelstaart is one of the armed forts of the defence line around the Dutch capital Amsterdam, built between 1883 and 1920. This defence line (in Dutch "de stelling van Amsterdam") contains a network of 45 armed forts and can temporarily flood polders extending 135 kilometers around Amsterdam. This unique defence system is inscribed on the UNESCO World Heritage List.

Sail, eat and drink
You can combine your sailing trip with a visit to one of the many restaurants around the lakes. Do you prefer eating on board? No problem. You can take care of your drinks and catering yourself. Or, catering can also be provided by us. Ask in advance about the possibilities.

Where does the Nooit Volmaakt sail?
- Westeinderplassen (boarding on fort Kudelstaart)
- Braassemermeer (boarding in Oude Wetering)
- Kaag (boarding in Oude Wetering)
- Other areas in consultation

How much is it?
Contact the skipper of the Never Volmaakt for a free quote.

What else you need to know?
- Never sailed before? No problem, sailing experience is not required.
- Upon arrival, coffee and tea will be ready for you.
- The ship is fully equipped: cold and hot running water, gas stove and oven, toilet, etc.
- Put on comfortable clothes. Take warm clothing and rain gear (unfortunately, it may sometimes be necessary).
- The sailing season starts around April 15 and lasts until the end of October
- Maximum 12 passengers per trip. For larger groups, we work together with other boat companies.
Contactgegevens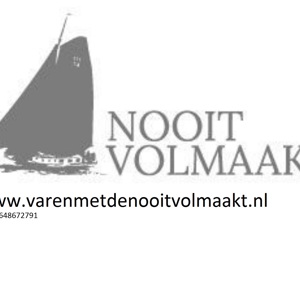 Nooit Volmaakt
Belangrijke info