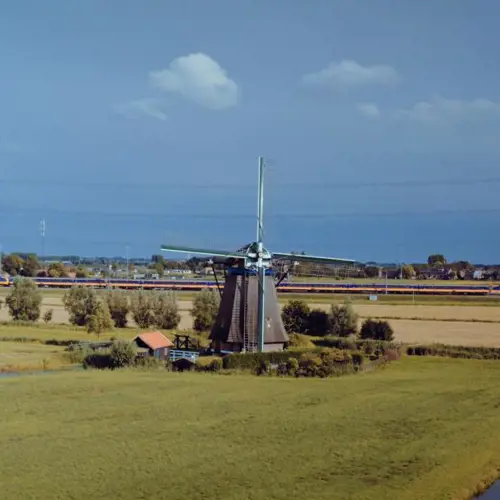 Blauwemolen
Blauwemolenweg 10
Rijpwetering
Blauwemolen
The Blauwe Polder (Blue Polder) owes his name to the smock mill with the blue painted top, which drained the polder. When this smock mill was broken down, in 1903. Mill maker Vrijburg from Oud Ade built the current Blauwemolen in 1904. With parts of an old 'Boezemmolen' (drainage mill) dated 1774 from Hillersberg.
The Blauwemolen is an eight-sided, thatched roof ground-sailor. The top, below the roof is painted remarkably bright-blue. The mill drained the 'Blauwe polder' until 1960, after which the mill deteriorated. In 1971 the mill fell under the management of the Rijnlandse Mill Foundation and was restored thoroughly. When the 'Achtwatering' – the water where the Blauwemolen discharged its water -was embanked in 1980, the mill could only drain in a circuit. The mill currently is out of order and is used as a house. The Blauwemolen is a national monument, but not open to public.
Special: It's unique that there is a portage on the mill-yard, where every now and then a polder ship was drawn across the polder dyke between polder and drainage water. The mill is painted green with a white edge and inscription ANNO 1904.
Take a look at the film about this mill on our Youtube-channel.
Bas Brand made a beautiful drone video of this mill, you can watch the film here.
More information about the Blauwemolen can be found in the Dutch mill database or via the Rijnlandse Mill Foundation.