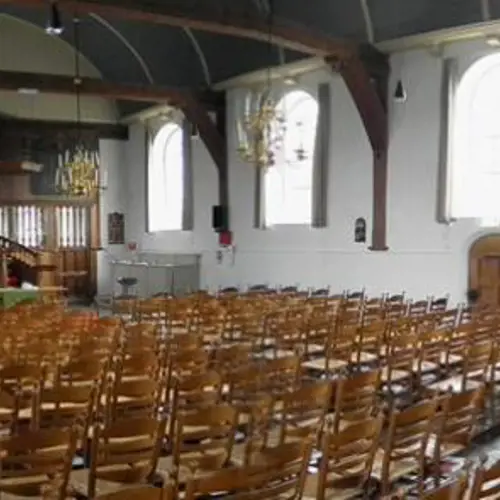 Woudse Dom
Herenweg 26
Rijnsaterwoude
Woudse Dom
Originally De Woudse Dom in Rijnsaterwoude was a Roman Catholic church. The year of construction is unknown. After the Iconoclasm in 1556 the church became Protestant. The first pastor was Reverend Snoeckaert in 1573.
The building
De Woudse Dom is a single-aisle village church with a partially built-in tower dating from 1552. There is a separate choir area behind the pulpit (1651). Some chairs are decorated with the arms of Rijnsaterwoude and an image of the Lamb of God. The church is covered by barrel vaults with tie beams. The church was restored around 1956.
Current use
De Woudse Dom is a Dutch national monument and is still used for services of the Rijnsaterwoude Protestant Community. In addition, this distinctive building may be rented for weddings and concerts.
To read more, visit their website (Dutch website).