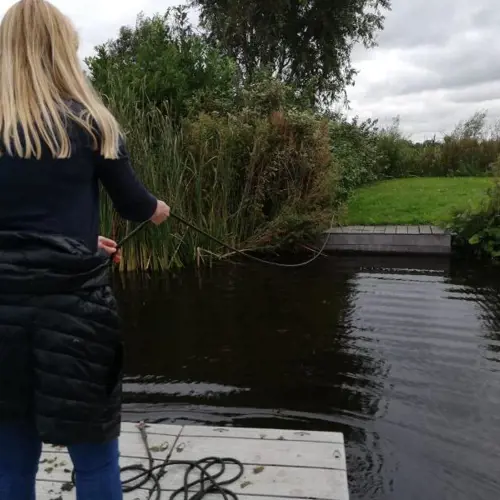 The Family Pathway Kaag is a 5 km long pathway through Buitenkaag and the picturesque Kaag Island. It will take you along the 20 most beautiful spots in the surroundings. Just crossing with the ferry from Buitenkaag to Kaag Island is a unique experience on it's own. Along the route you will come across a water play equipment, a birdwatching wall and a watchtower.
A challenge for young and old
Via an app, you will get information about the history of the Haarlemmermeer and other historical facts worth knowing. As there are a lot of resting points along the route, the walk will take you approximately three hours. Like table tennis? Don't forget to bring you ping-pong balls and table tennis bat.
Download the app on www.kaag.nl/fwp Available in Dutch, German, English, French, Italian and Polish.
The family walking trail is well accessible for the entire family and will take you across paved roads, so you can discover the route with a baby carriage, mobile scooter, rollator, or wheelchair. So it's an ideal walk for families or a group of friends.
When you travel by car, you can easily park at the Leidsemeerstraat in Buitenkaag opposite number 61. The walk will start here.