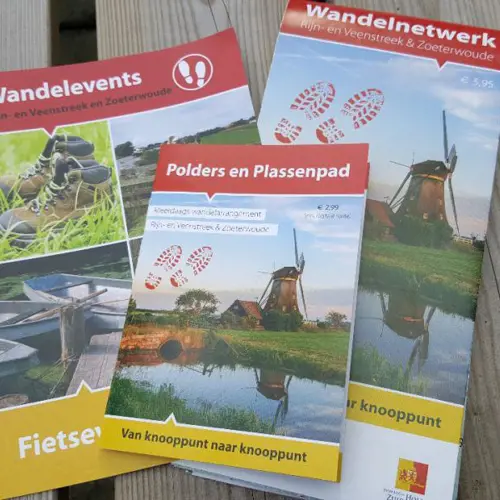 Walking Route Network Rijn and Veenstreek
Walking Route Network Rijn and Veenstreek
The walking route network is a walking network of 450 kilometers walking pleasure for young and old. Inspiring existing walks, new walks, long-distance walks and farmland trails are integrated in this nodes network.
With this node network you can choose your own route and the number of kilometers you want to walk. You will find the node numbers on the map, and the distance between the numbers are indicated in kilometers. Via the numbered paths, you will walk from node to node, which can be done in both directions.
If you would like to end your walk again at the beginning of your walk, remember the number of your starting point. On the walking map, you can find some inspiring routes. You can start from any sign posted node number.
Carefree journey
Want to make things easy? Depending on the number of days you want to walk, you can make arrangements for a multiple days walking route: Polders en Plassenpad. You will stay at a B&B or a small-scale hotel in the most beautiful locations. Read more >>
Farmland trails
Along this route you'll enjoy the extensive lakes with wavy reed border, well organized tree nurseries, stately mills and picturesque villages and lots more while the walking map and walking app tell you more about the history and the story behind the most beautiful spots in the area. You can buy the inspiring walking map at bookstore Veenerick  or VVV Alphen or download the Abellife app and buy the route cheaply.