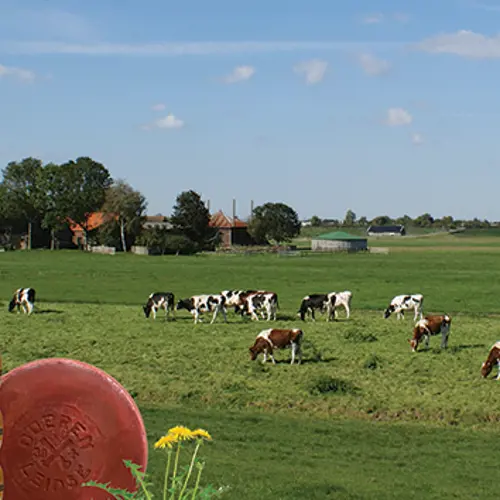 Farmer and Cheese Cycle route
Roelofarendsveen, Rijpwetering, Oud Ade, Kaag, Hoogmade, Woubrugge e.o.
Kaag en Braassem
Farmer and Cheese Cycle route
Discover the beautiful polders around the Braassemermeer, where cheese has been made for generations. The area is a natural wetland area; therefore, farmhouses were very remote. It was a time-consuming job to deliver the fresh milk to the consumers by boat every day. For that reason, the milk was used to make cheese instead and sold at the local market once a week. The sold cheese was weighed and checked at the Waag on the Aalmarkt in the city of Leiden
Craftsmanship
Traditionally, making cheese was a woman's job. The craftsmanship was passed on from mother to daughter (in law). Nowadays it still is a job for the farmers women. A lot has changed, paved roads have been constructed and there are refrigerated trucks to transport the fresh milk. But cheese farms and the craftsmanship of making farmhouse cheese are here to stay.
The recipe
Real farmhouse cheese is made at a farm from raw milk of the farmer's own cows. The milk is not heated which gives farmhouse cheese its own unique flavour. The flavour depends on the food that the cows eat, the recipe of the cheesemaker, the time of maturation and the amount of love and passion with which the farmer works. In some cases, the milk is briefly heated, this particular process is called thermization, or when it's heated to a higher temperature it's called pasteurization. The cheese is then labelled with the term 'Cheese from the farm'.
The cycling route
During the cycling route, you'll get to know the story of the farmers and their cheese and you will taste the authentic flavour of the region's most delicious farmhouse cheese. 'Rondom Kaas & Braassem wants to stimulate young and old visitors to hit the road and look for local products, because our region's cheese taste the absolute best. Therefore, it is with pride we present you this specially designed cycling route and thank all cheese farmers for their dedication and passion for this typically Dutch product.
At the entrance of each cheese farm pointed out on the cycling map, you'll find a signpost with a QR Code. When you'll scan this code with your smartphone, you'll be redirected to the website. Here you can read all the interesting facts about the farm in question. You are free to start the route at any point.
Cycling Network
The route will run via the Dutch national cycling network. In some cases, there is a small detour in order for you to get a chance to visit all cheese farms.
Red route: 35km,
Blue route: 22km,
Orange route: 18km.
 
Here you'll find the description of the Dutch national cycling network and our special cheese farms route map.
Rent a bike?
You can rent a bike on several places in Kaag & Braassem. For instance, at 'Mariahoeve logies' in the village of Woubrugge, where you can also start the cycling route. You can find bike rental addresses here.
A - Noordhoek
You are free to start the route at any point. On the map we start at a recognizable point in Roelofarendsveen, at the square in front of the Water tower. You can also park your car here.
The Vossenburgh is well known in and around Langeraar and the municipality of Nieuwkoop since 1630. It started as a dairy farm and artisan cheese farm, but the love for horse led to a riding stable and boarding house for over 70 horses and ponies.
Pay a visit to their store to taste and buy the fresh cheese.
De Vosseburch Family Rademaker, Langeraarseweg 160a, Ter Aar, website
C - Kaasboerderij Van Harten
You're at the right address for a real tasty authentic cheese at Cheese Farm Van Harten, on the edge of Woubrugge, Looking for a special or challenging flavor? You'll find it in their Farm Shop. All cheeses are made in their own dairy at the farm and produced from dairy of their own cows.
Cheese Farm Van harten, Family van Harten, Oudendijkseweg 4, Woubrugge, website
D - Kaasboerderij 't Groene Hart
Cheese Farm 't Groene Hart in Hoogmade is a 5th generation family business. The farm is situated between Leiden and Alphen aan den Rijn. In the middle of nature of 'het Groene Hart'. Having sixty milk cows and forty young stock, they make artisanal farmhouse cheese, using the recipes from previous generations.
Cheese Farm 't Groene Hart. Family Van Wieringen, Groenwegh 17, Hoogmade, Facebook
E - Zuivelboerderij De Groshoeve
At this farm, three Mooren-brothers and their families take great care for their cows and make farmhouse cheese. The children can be found at the yard too. By now, there are three generations Thijs: Grandfather Thijs, cheesemaker big Thijs and little Thijs. This makes de Groshoeve a genuine family company.
Dairy Farm De Groshoeve; Family Mooren, Groenwegh 3, Hoogmade, website
F - Boerderij Buitenverwachting
Farm Buitenverwachting is a small scale, evolving multifunctional biological farm in Het Groene Hart. The heart of this family company is formed by fifty dairy cows, mainly Holsteins, but the number of other races increases. The calves stay with the cow and cows can even be adopted.
Farm Buitenverwachting Family Van Rijn, Vlietkade 2, Hoogmade
G - De Kleine Kazenboerderij (small cheeses farm)
It all started in 1913, when the foundation stone was laid. The Farm is situated at the other side of the Klaverweijdeweg and could only be reached by rowing boat. All cheese was transported by boat to the other side. In 1986 they started with making cheese seven days a week as the stoped picking op the milk cans. It was then when the first two-pound barrels were purchases
De Kleine Kazenboerderij Family Van Leeuwen, Doespolderkade 1, Hoogmade, website
H - Waag
De Waag used to be the place where the merchandise from other cities were weighed and checked. This way, the city of Leiden was able to excise duties and check the quality of the products. Nowadays it's open from your first cup of coffee until your last beer for the day. Every visitor can determine that a lot has changed, but strangely enough, stayed the same too.
Waag, Aalmarkt 21, Leiden, website
I - Kaasboerderij Kwakernaak
Dairy Farm Kwakernaak exists for five generations. They always made cheese at this farm, mainly Gouda cheese. But they started making Leyden cheese about twenty years ago. Farmers' Leyden Cheese is now the main product of the company. They Farm is run by Huib and Ria Kwakernaak and heir son Dick. The dairy herd counts eighty dairy cows and sixty young stock. cheese is made six days a week.
Kaasboerderij Kwakernaak Family Kwakernaak, Hofdijklaan 23, Oud Ade, website
J - Zorgboerderij Catrina's Hoeve
Leon and Wilma, from Catrina's Hoeve, run their dairy and cheese farm not far from Leiden. There are around eighty dairy cows, calves, sheep, goats, chicken, rabbits and a few cats. There is an allotment with fruit trees only.
This farm cannot be reached by bike.
Zorgboerderij Catrina's Hoeve Family Van der Geest, Blauwe Polder 1a, Oud Ade, website
K - De Sweylanthoeve
We are Cees and Ruud van Schie, Ruud milks the cows and Cees makes Farmers' Leyden Cheese and farmhouse butter. We have about fifty cows that are milked twice a day. During Summer our cows graze in the surrounding meadows, which gives not only healthy animals, but a magnificent Dutch landscape too. In Winter time, our cows are free to move around in the loose stable and are fed with our own gained roughage, like hay and silage.
De Sweylanthoeve Family Van Schie, Sweilandpolder 9, Warmond, website – PLEASE NOTE: Cannot be reached by bike, only by foot, via foot-ferry 
L - Boerderij de Eenzaamheid
Since 1849 the van Schie Family lives and works on cheese farm de Eenzaamheid (Loneliness) in Warmond. Besides Jan and Roos (farmer and farmer's wife) the family consists of three children.
The Farm can only be reached by rowing boat.
Boerderij de Eenzaamheid Family Van Schie, Zwanburgerpolder 6, Warmond, website
M - De Sophiahoeve
Around 1600, Cornelis Janszoon already made butter and cheese at the Warmerdam, the dam between Warmond and Sassenheim. It was the time that butter, cheese and buttermilk, brought the region of Leiden to great bloom.
Theo Warmerdam is the twelfth generation to make cheese and butter at the Sophiahoeve. The nearly centennial farm, houses a modern cheese and butter factory. The artisan style of production is still being used. And our butter, cheese and buttermilk are still being made from purebred 'Blaarkoppen'.
De Sophiahoeve Family Warmerdam, Wasbeeklaan 7, Warmond, website
N - Kaasboerderij De Annahoeve
The Annahoeve is established in the old farm at the end of the Menneweg before the viaduct. It has a wide range of home-made farmhouse cheese and other natural dairy products like butter, buttermilk, yoghurt, lemonade, herbal drink, jam wine and eggs.
De Annahoeve Family Van der Plas, Menneweg 42, Sassenheim, website
O - Zuivelboerderij Pennings 
We are Corné and Janneke Penning, and we would like to welcome you at our farm in the Hellegats polder in Warmond. We have fifty-five dairy cows, mainly of the Holstein Friesian breed. We also have about thirty young stock, nd a few goats and sheep. We make our artisan cheese with the milk of our own cows and do this in a nature and animal friendly way. For a big part of the year, our cows are outside in the meadow, which yields a delicious 'graskaas' (young cheese).
Besides butter, cheese and eggs, the products range at our farm shop is expanded with al sorts of artisan products like yoghurt, ice cream, nuts, fruit juice and our own meat. Our farm is situated alongside the Kagerplassen, a perfect place to start a boat trip. For watersport enthusiasts we rent out canoes and kayaks and give suggestions for a beautiful canoe trip on the Kaag and Braassem.
Landwinkel Pennings, Hellegatspolder 1, 2361 NA Warmond, 0252-224001, pennings@landwinkel.nl, website
P - De Kaagse Boer
At our farm, we take care of fifty-five dairy cows and fifty young stock. There is 36 hectares of land, where the cows can freely walk during summer. At our farm, dated from around 1850, we have a dairy and cheese storage and various sheds at our own disposal. Besides cows, we have around fifteen chicken, two goats a dog and a cat.
De Kaagse Boer Family Van Ruiten, Julianalaan 29, Kaag, website
Q - Boerderij de Morgenstond
We are Boris and Ellen, forth generation Heemskerk at farm De Morgenstond. Since 1999, we live here, together with our daughters Daniëlle, Julia and Simone. In 2002 we toke over the farm from Dick and Ina, Boris' parents.
Boerderij de Morgenstond Familie Heemskerk, Boekhorsterweg 20, Oud Ade, website
R - Boerderij Weidegeluk
When driving the courtyard of Weidegeluk (meadow happiness), you immediately understand why it's called like that. Chicken are happily scratching around, meadow birds build their nests and kestrel's hunt for prey's. But don't be mislead by the idyllic scenery. This farm is ecquipoed with the most modern machines and meets up with high quality standards. Specialty of this farm? Genuine Farmers' Leyden cheese and dairy butter.
Weidegeluk is home of Klaas and Sandra Heemskerk and their children Siem, Nienke and Cas. The have sixty-five Holsteiner cows and sixty sheep, who have fourthly hectares at their disposal. Their farmhouse shop is opend all year round on Thursday, Friday and Saturday from 15.30-17.30hrs.
Boerderij Weidegeluk Klaas en Sandra Heemskerk, Boekhorsterweg 19, Oud Ade, website
We are Erik Rotteveel and Marjolijn van der Meer. Together with our two children Luuk and Dane, we live and work with great pleasure on this beautiful place .Grandfather Rotteveel started cheesemaking in 1937. We have around a hundred cows. Only healthy cows give top-quality milk. Our cows are outside on the meadow for most part of the year and mainly eat grass.
Rotteveel Boerenkaas Family Rotteveel, Zuidweg 1a, Rijpwetering, website
Farmhouse shop Castelijn is situated along the Rijpwetering canal. When crossing the bridge across 'The Rip" and follow the path, you'll see the farmhouse immediately at your left-hand side. At the right, you'll see the stables where there are about hundred and twenty dairy cows. The dairy is directly behind the farmhouse shop, so you can have a look at working in the dairy.
Landwinkel Castelijn Familie Castelijn, Pastoor van der Plaatstraat 40, Rijpwetering, website
U - Hoeve Waterrijk
We, Hugo and Marije van der Poel, live one one of the most beautiful spots in the Netherlands. Our farm, Hoeve Waterijk, is situated on an island at the edge of the Kagerplassen in South Holland. Consequence is that everythong that goes or is coming from the farm, has to be transported over water, rowing boat of with our own ferry. Our children Anna, Menno and Lucas had the learn how to row at a very early age.
Hugo is the third generation van de Poel, who is farming here. The special thing about Hoeve Waterrijk is that the cheese is still made in the same way Hugo's Grandfather and Grandmother did.
Hoeve Waterrijk Familie Van der Poel, Buurterpolder 2, Rijpwetering, website
De Kaaswereld is a special cheese shop in the centre of the town of Roelofarendsveen. In 2018, it was awarded best farmhouse cheese specialist in the Netherlands. Here you'll find the region's most delicious cheeses in all different ages. With a lot of enthusiasm, the team of De Kaaswereld will tell you the story of the traditional cheesemakers and will let you taste the difference for yourself.
Owner Richard van Klink is born and raised in Roelofarendsveen. Together with his team, he runs this shop as an independent entrepreneur. In this way this shop is able to select its own products and customers are always guaranteed the best possible quality. Partly by his agricultural background, Richard maintains a close relationship with the farmers of whom the cheeses are offered in the shop. De Kaaswereld mostly obtains the farmhouse cheese from this region. That is why you should come to De Kaaswereld if you want to experience the real taste of this region.
De Kaaswereld Familie Van Klink, Noordplein 9 (Winkelhart), Roelofarendsveen, website
W - Boerderij Boterhuys 
On a stone's throw from Leiden, in the middle of the polder, you'll find the Boterhuys Farm. A biological airy farm, cheesemaker, picnic and meeting area for everyone who wants to have a taste of farm life
Boerderij Boterhuys Gerard Mul, Zijldijk 7, Warmond, website