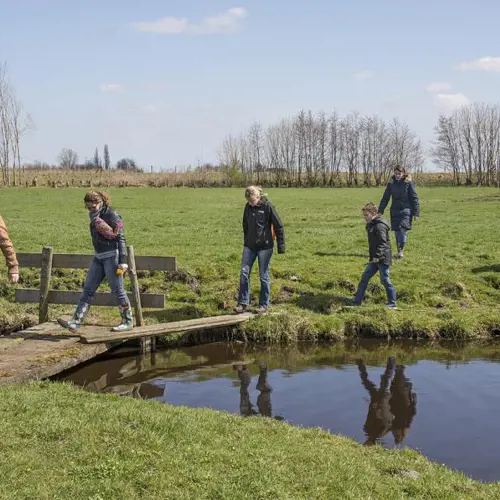 Through a number of paved winding bits the hikers on this journey soon find themselves in the beautiful meadows. This means walking through marshy fields and watching closely not to step into the cow pats. To start out, take the rope-guided raft to visit the island of Patmos, which is about the size of a large postage stamp.
The legwork will be amply rewarded. Beautiful flowering rush decorates the banks of the canals. Their purple colour contrasts strongly at this time with the bright green. Dozens of brown frogs jump in the water as you pass by. With a little luck the hiker may discover the male newt tucked in between the duckweed. In the water it waves its brightly coloured tail to impress the ladies.
It is noticeable while walking that there are many broken barnacles lying on the grass. Birds fish them out of the water to munch on them. Not everyone is pleased with the hikers. Sterns and oystercatchers protest quite a bit when a hiker comes near them. The impressive white swans do not look too happy either.
Windmill
After about three kilometres, the windmill will come into sight. If you're lucky, you will find the miller who loves to give passers-by a tour in his magnificently kept mill. Sometimes he is lashing and securing the big wheel to let the sails catch more wind.
The heron is a frequent guest here and nowadays the stork is seen more often, to the great dismay of the frog population. Curlews, lapwings and redshanks certainly belong among the natives.
The exact distance of this delightful trek is somewhat difficult to estimate. According to the miller, there are two different trails to follow. One leads the hiker onto the T-intersection to the left, by which he circles back to the dike along the row of trees. The other option is via the mill cutting straight through the meadow to come back. This trek is approximately four kilometres.
All in all, a hike that will of course make you hungry and thirsty. It is not a total coincidence that there are also many cafes in the area to strengthen the inner man.
Source: Ron van der Lem, Witte Weekblad, Dichtbij.nl

---
Practical information about the Laarzenpad
| | |
| --- | --- |
| Distance: | approx. 5 kilometres |
| Parking: | parking lot Buitenkaag on Leidsemeerstraat |
| Relaxation: | picnic area near De Stal op de Kaag, Julianalaan 13a, Kaag |
| Starting point: | Buitenkaag - Kaag ferry |
| Note: | NOT accessible during the breeding season from 15 March to 15 July |
---
Buy the guidebook 'Beleef het Laarzenpad' (Experience the Wellies Trail)
Besides a description of the route, this hiking guide has stories from people who are closely involved in the welfare of humans and nature. It can be purchased in Bezinningscentrum De Stal op de Kaag, Julianalaan 13a, 2159 LB Kaag.
Download GPX bestand
Download Zip bestand