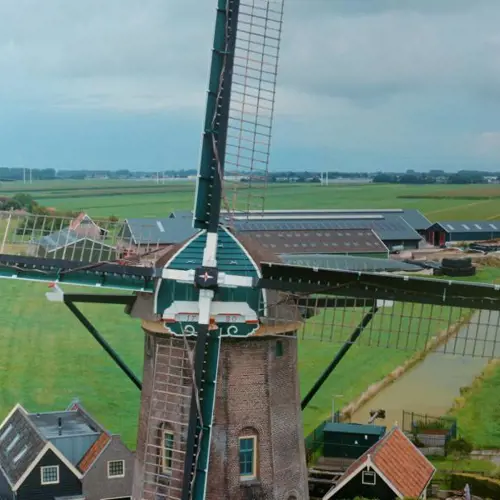 Lijkermolen No. 2
Together Lijkermolen No. 1 and Lijkermolen No. 2 form a unique duo. They are the only twelve-sided stone mills in the Netherlands. Tradition says that the contracter who build the mills, was 'too lazy' to build a round one as assigned, but of course no one can confirm if that is actually true. The two ground-sailers (windmills that can be controlled from the ground) were built in 1780 on a pond which had had its peat removed (the current Drooggemaakte Veender- en Lijkerpolder) to drain it dry.
In 1926 the jack of the Lijkermolen no 2, was connected to an electric engine, but draining the polder using wind energy was still possible. During the 60's an electric jack pumping engine was placed beside the mill and made the mill jack inside unnecessary.
During a thorough restoration during the 80's, the mill's roof, among other things, was repaired. During this restoration, the flight of the wicks was also slightly reduced. In the past lorries regularly collided with the rotating wicks because of the location of the mill, -directly next to a public road.
After the adjustment of the mortar in 2003, this remarkable mill located at the Koppoel in Rijpwetering has been in full working capacity.
Lijkermolen No. 2 is located on Kleipoel in Rijpwetering and shows off beautifully against the landscape of open water and deep polders. The mill is not open to the public.
More information about Lijkermolen No. 2 can be found in the Dutch windmill database.