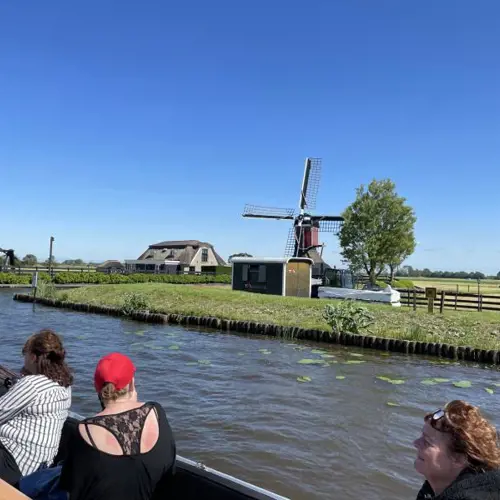 Mills and More Sailing Route
Braassemermeer, Kagerplassen, e.o.

Mills and More Sailing Route
The 'Mills and More' route, is a wonderful multiple day sailing route around the municipalities of Kaag en Braassem. Alphen aan den Rijn and Warmond, which will lead you along the most beautiful mills, remarkable sights and other interesting activities.
This route is developed in close cooperation with local entrepreneurs who joint forces for visitors to enjoy the best our region has to offer. You can also map out a route on the basis of marked points alongside the route and define the length of the route for yourself.
During the route you will sail, among others, via the 'Leidse Vaart', which will give you a magnificent view over the surrounding , low-lying 'Langeraarse Plassen' (lakes of Langeraar). A real unique spot to pass by. Harbour 't Venegat in Rijnsaterwoude, is one of the most beautiful spots of our municipality Kaag en Braassem.  The sunset, which is different every day, is absolutely spectacular.
You will also sail through the waters of the 'Zegerplas area', where you'll find several beaches and some restaurants and cafes. Via the center of Alphen aan den Rijn and Brouwerij de Molen (Mill Brewery), you will sail back to a haven of peace, via the 'Kagerplassen", to Kaageiland. The Tulip Route is also a 'must see' during this remarkable boat trip. The length of this multiple days sailing route is about 12 hours.
More than one day? Stay over
Don't have a boat of your own? Have a look at the possibilities for hiring a motorboat or a round trip. Or want to stay over? There are lots of possibilities for an overnight stay along the route. Have a look at the possibilities here.
This route is powered by Café de Haven, BOB on Board, Hotel Orion, Varen met de Nooit Volmaakt, Park Wijde Aa, B&B Klein Polderhuis, Columbus Watersport en Wester-Engh.
You can download PDF of this Route below. The route is also available for your route planner and  can be found on the website of 'Sloepennetwerk'
Download pdf bestand