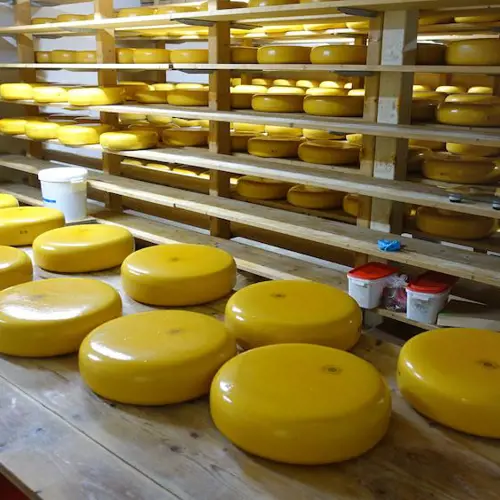 Rotteveel Farmhouse cheese: from cattle farmer to cheese farm
Rotteveel Farmhouse cheese: from cattle farmer to cheese farm
It's nine o'clock sharp, when I enter the courtyard of the Rotteveel Family in Rijpwetering, The coffee awaits, but before I reach the front door, I'm greeted by a most friendly wagging dog. At the top of the stairs there's another inhabitant of Zuidweg 1a, whom I did not discover yet. But he did notice me, and welcomes me very enthusiastic. On my right, a black cat runs off. Hope this turns out fine.
While enjoying a cup of coffee, I ask if there are more animals around? 'How about 100 dairy cows', says Marjolijn, and kicks off by telling the history of the farm.
The farm is established by grandfather Piet in 1937, at the Pastoor v. d. Plaatstraat. The current farm at the Zuidweg, was built in 1984, but it was always about milk and cheese, Marjolijn tells.
Cheese production
'About 65% of the milk from our cows, is being used to make genuine raw milk farmhouse cheese. Farmhouse cheese is a European protected name according 'traditional speciality guaranteed' (TSG). Most important characteristic is that the cheese is made of raw milk on the farm. Making cheese of raw milk is special and gives farmhouse cheese its rich taste sensation. We also use wooden barrels and linnen cloths and what's also special is that we crumble the curd before it's transferred to the barrels. Instead of a single hole, you'll find many small holes when you cut the cheese. Ours is known for its quality and wonderful flavor. Over the last few years we've won several prizes at the national dairy inspections Cum Laude'.
Erik, Marjolijns Husband: 'We used to have so called blister heads, originated from Groningen, but we now have a more regular cow breed: the Holstein-Friesian, black spotted. Holstein is now being crossed with Montbéliarde, a stronger red and white cattle and less time consuming than the Holstein'.
The grass is of high quality here and grows very well in this region, so there's almost no need to give the cows supplementary feeding. Circulation plays a big role here.
Catle
'Our cows are outside in the meadow as much as possible. Last year was an absolute record with 160 days, from April until late November. During Summer they can go outside during the nights  too. During Winter, when the cows are inside, we mainly feed them with the grass we harvested and preserved during the Summer. The ration is supplemented with some corn and only a little concentrates'.
During a peek at the production process, I can see that there is a lot of the craftsmanship at the farm. It's beyond dispute that they work very hard and a lot of hours to make such a beautiful product. Because of the heat during the process it's almost not possible to take any pictures. The lens of my camera as well as my glasses are fogging up. Clean working is highly valuated here, Marjolijn explains how vulnerable this process actually is. It's all about the correct and good bacteria, a protected process where clean milk is fundamental.
They produce a whopping 1250 kilo farmhouse cheese a week. The trade receives about 90%, the other 10 % is for the cute little shop which is the domain of Marjolijn. Besides their regular customers, they also welcome a lot of tourist during Summer, of the latter we would like to lure more, Marjolijn laughs.
There is only one sort of cheese actually. Farmers Gouda of all ages and also aged crumb cheese. Luckily we end up at the top of our branch each year, small scale is the magic word. Marjolijn and Erik run this farm, together with their trusted employee Rutger Daalmeijer, who is self-employed, but committed to the farm for over ten years.
Nature conservation
Marjolijn: 'We work with respect for nature and environment and continue to develop that. Amongst others by making very little use of artificial fertilizer and let our cows graze as much as possible. Besides that, our farm is almost self-sufficient by the energy generation of two hundred solar panels on our stable roof and we're very active at protecting meadow birds. We've also sown a piece of the house plot with a diversity of flowers and herbs, which are good for bees and  other insects. During Summer, our courtyard is a green oasis with lots of trees, bushes and flowers. A nice residence for birds, insects and other small animals like toads and hedgehogs. We have several nest boxes, where birds can settle'.
This was a very informative hour of nature education. The night before I dreamt I was given a piece of cheese, sometimes dreams come true. I wish the Rotteveel family and all animals, the best of luck with this beautiful craft.
Paul Graafland
Contactgegevens