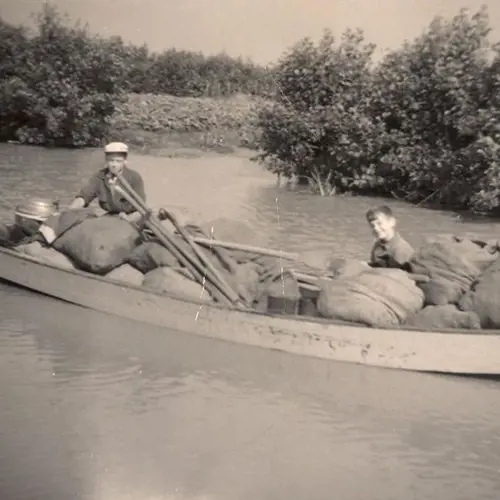 Veenderpolder and Lijkerpolder: Polder transport
Veenderpolder and Lijkerpolder: Polder transport
The Lijkerpolder and Veenderpolder stretches outside the dikes behind the North and South End in Roelofarendsveen and Nieuwe Wetering. It used to be an area with plenty of water and wetlands with coppiced woodlands. Gardeners wishing to expand or wanting to create space for their sons, made their own fields in the polder. They did that by splitting the land. The undergrowth was cut down and waterways were dug around the new field for drainage. Peat soil that becomes too dry, will quickly subside and harden, making it unsuitable for growing crops. For a rather long time the growers could make land without applying for permits. After 1832, when the area was fully mapped and land tax had to be paid, it was probably more difficult. It is certain that in exchange for the new ground the gardeners had to give peat to the 'council for the poor', i.e. to "the poor of Roelofarendsveen."
Pramen (Barges)
Until the land parcelling in 1960, the fields in the Veenderpolder and Lijkerpolder outside the dikes were only accessible by water. The gardeners were using pramen for that. Pramen are flat boats that have very little draught and are therefore ideally suited for transport through a peat polder. The praam existed in Roman times and, together with the aak (also a flat-bottomed barge for inland waterways) are the oldest type of vessels in the Netherlands. The word praam means pushing or in this case, propelling with a barge-pole. Are you curious what a praam looks like? The Sjaak, a restored praam which is available for hire to sail through the polder can be found by the quay of the Wagenaar restaurant.
---
This story is part of the Tulip Route. A cruise full of stories about the flourishing Veenpolder of Roelofarendsveen. The Tulip Route is free. A route map can be found on this website or at one of our tourist information centres, in the vicinity of bars and restaurants or marinas.
---
The Tulip Route in Roelofarendsveen is made possible by local entrepreneurs. This story is brought to you by: Dobbe Transport.