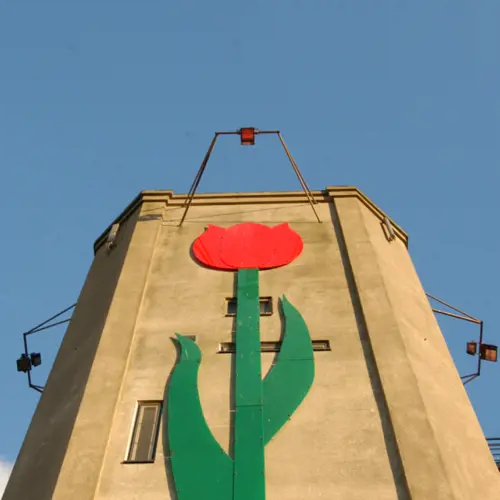 Veenderpolder and Lijkerpolder: Water Tower Tulip
Veenderpolder and Lijkerpolder: Water Tower Tulip
'Roelofarendsveen, the flower of the Randstad.' In 1986, under this motto the Veen business community started a promotional campaign for the village. The entrepreneurs wanted to put Roelofarendsveen on the map as an enterprising horticultural village that was well worth a visit. And they did it with tulips, of course. The highlight of the campaign were two 20 metre high tulips on the water tower in the centre of the village.
Snapped Tulips
It was intended that the two tulips, made of sailcloth, would remain fixed until the end of time on the water tower, but the Dutch winter weather threw a spanner in the works. Both tulips on the water tower were blown away on 25 January 1990. The people of Veen missed their huge tulips as a guide and beacon of light. Tulip cultivators Har Hoogenboom and Kees de Jong (from the Royal General Association for Bulb Culture), therefore took the initiative to have the tulips put back on the water tower. They sought sponsors, arranged the necessary permits and had storm-proof tulips designed; four this time, one for each side of the water tower. And with success. On the first day of spring 1991, the new tulips were attached to the water tower. They are still there to this day.
---
This story is part of the Tulip Route. A cruise full of stories about the flourishing Veenpolder of Roelofarendsveen. The Tulip Route is free. 
A route map can be found on this website or at one of our tourist information centres, in the vicinity of bars and restaurants or marinas.
The Tulip Route in Roelofarendsveen is made possible by local entrepreneurs. This story is brought to you by: Th. C Hoogenboom.