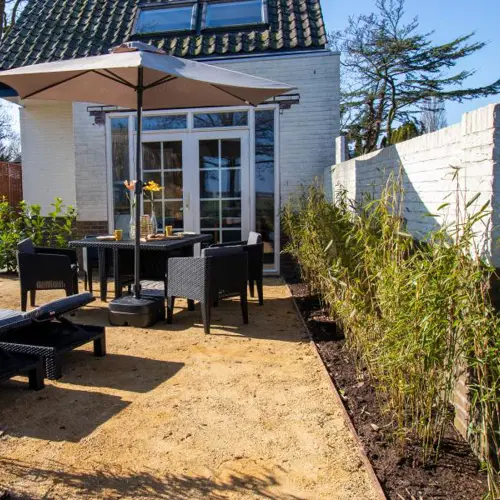 Wellness Lodge on the Braassem
Herenweg 98 BB
Rijnsaterwoude
Apartments
Bed & Breakfast / Lodging
Vacation houses
Wellness Lodge on the Braassem
A unique detached Lodge in a beautiful location around the corner from the Braassemermeer.
• Bed and Breakfast Wellness Lodge on the Braassem in Rijnsaterwoude is a lodge with 1 apartment.
• Wellness Lodge aan de Braassem includes: Free WiFi, Parking (Free), Sauna, Hot tub / Jacuzzi, canoe, bicycles
The Lodge is an 85 year old converted garage. This nice residence has its own entrance with living room, kitchen with coffee and tea making facilities, refrigerator and microwave. When the weather is nice, you can open the patio doors and eat on the cozy terrace. In the hall is a toilet with stairs to the top.
Upstairs is the bedroom with a lovely box spring bed, washbasin furniture and an adjoining nice bathroom with shower including towels and toiletries. Our location is unique with a view of the meadow. In addition to the luxurious and spacious lodge, you can relax in the old cowshed with a Finnish sauna and luxury spa with outdoor shower. You can rent the wellness extra for yourself.
There are many beautiful walking and cycling routes available from the Lodge and you can practice numerous water sports on the lake or sit on a terrace by the water. You can moor your boat at the harbor at 600 meters.
CONTACT FREE STAY
Contactgegevens
Wellness Lodge aan de Braassem