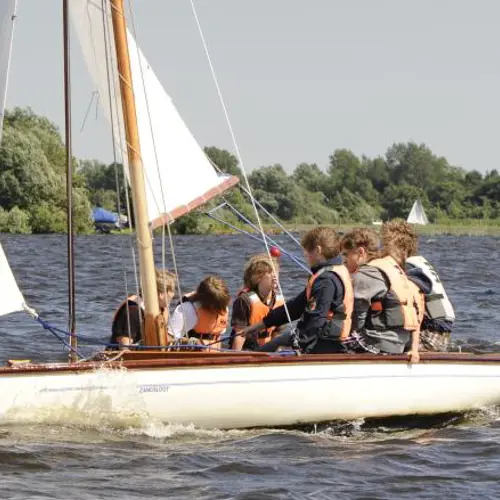 Kagerplassen (Lakes of Kaag)
Kagerplassen (Lakes of Kaag)
The watersport area the 'Kagerplassen' (lakes of Kaag) are centrally situated in the 'Randstad', between Amsterdam and Leiden and is the oldest watersports area of the Netherlands. It was here where watersport in the Netherlands was developed and is still a unique watersport area with lots of possibilities. Various events, like the Kaagweek, the 'Turf en Strontrace (peat and shit) and the Schippertjesdagen (Skipper days) bear witness of good traditions.
The little village of Buitenkaag, is situated at the most southern point of the Haarlemmermeer. Together with the picturesque island 'Kaag', it's a real gem of the Haarlemmermeer area.
Unique watersport area
The 'Kagerplassen'  are very suitable for nearly every type of watersport. During high season several sailing clubs regularly organize sailing matches. No wonder that the Kagerplassen are the home base of many sailing school and watersport associations. This area offers lots of possibilities for motorized vessels too. From here the 'Westeinderplassen' and 'Braassemermeer' can be easily reached.
This double village is a unique watersport area and make a real El dorado for sailing, canoeing, rowing, waterskiing and when frozen, ice-skating, ice-sailing etc. You don't have to own a boat to enjoy the lakes. In the villages Kaag and Buitenkaag more than 150 open boats are for rent. Despite of all watersport activities Kaag has a peacefull atmosphere and the most beautiful views over water and meadows. You can also linger and enjoy the water at one of the sidewalk cafés.
Entertainment and stay overnight
In this double village there are several restaurant, watersport associations as sailing schools and a playground for the little ones and various accommodation possibilities. When out of breeding season, you can walk het 'Laarzenpad' (Wellies Trail) and a must see/do at 'Kaageiland' (Kaag island) where you'll also pass the Kagermolen.
Kaageiland is connected 24/7 by ferry  to the village Buitenkaag on the mainland of the Haarlemmermeerpolder. see map.
Want to know more about the Kaag? See www.kaag.nl