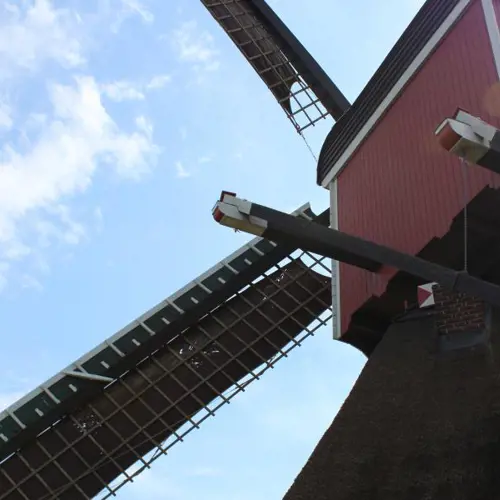 Mills in Kaag & Braassem
Hoogmade
Kaag
Oud Ade
Oude Wetering
Roelofarendsveen
Rijnsaterwoude
Rijpwetering
Kaag en Braassem
Mills in Kaag & Braassem
Kaag & Braassem counts 20 mills, well actually 20 and 2 halves. The later are the Grietmolen in Leimuiden and the Zonnemolen in Roelofarendsveen, only the body of the mill is intact. In popular speech, the Zonnemolen is also called 'Mill Without Blades'. The other 20, see below for an overview, are still working mills.
Unless otherwise stated, the mills are property of the Rijnlandse Mill Foundation. This foundation owns 46 mills, of which 17 in Kaag & Braassem.
Rijpwetering
Hoogmade
Oude Wetering
Kaag
Oud Ade
Roelofarendsveen
Rijnsaterwoude
Routes along the Mills molens
When are the mills open?
When weather conditions are good, it's Windmill working day at the mills of the Rijnlandse Mill Foundation, every first Saturday of the month. The also organize the annual Rijnlandse Mill day. Nationwide, you can visit mills on National Windmill Day and Open Monuments Day. For actual dates, see our event calender.
Recommened is the sailing trip 'The Miller tells', you can find the sailings in our calender too.
Documentaries and Mills images on YouTube
Kaag & Braassem Promotion has made beautiful documentaries and drone images of various mills in Kaag & Braassem. Enjoy the stories of the Millers, the nice to know and facts, the polder landscape and the surrounding from up above.
Although the spoken language of these documentaries are in Dutch, the images will mostly speak for itself. The mills featured in the documentaries are:
Blauwemolen in Rijpwetering.
Kalkmolen and Doesmolen in Hoogmade
Veendermolen in Roelofarendsveen
The drone images, made by Roos Jansen from Lichtgevoelig Filmproducties are collected in a playlist on YouTube.
Contactgegevens
De molens in Kaag en Braassem